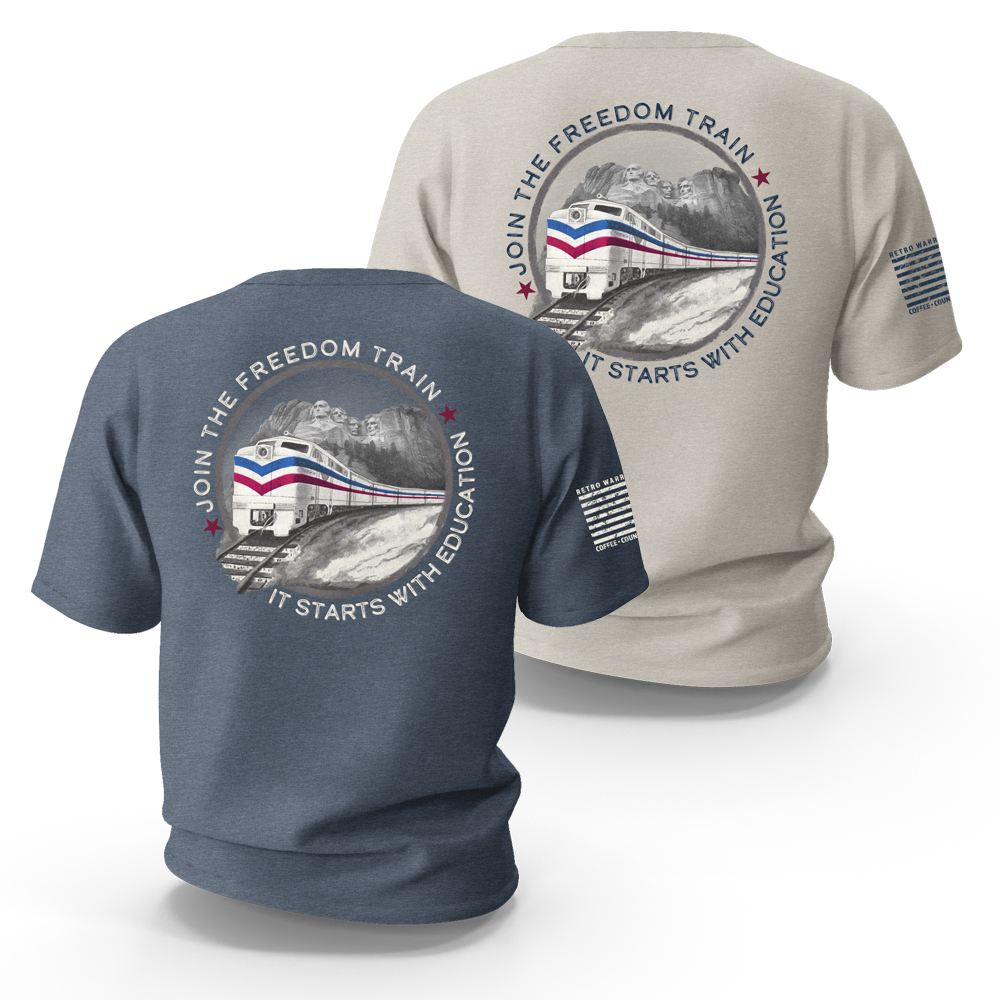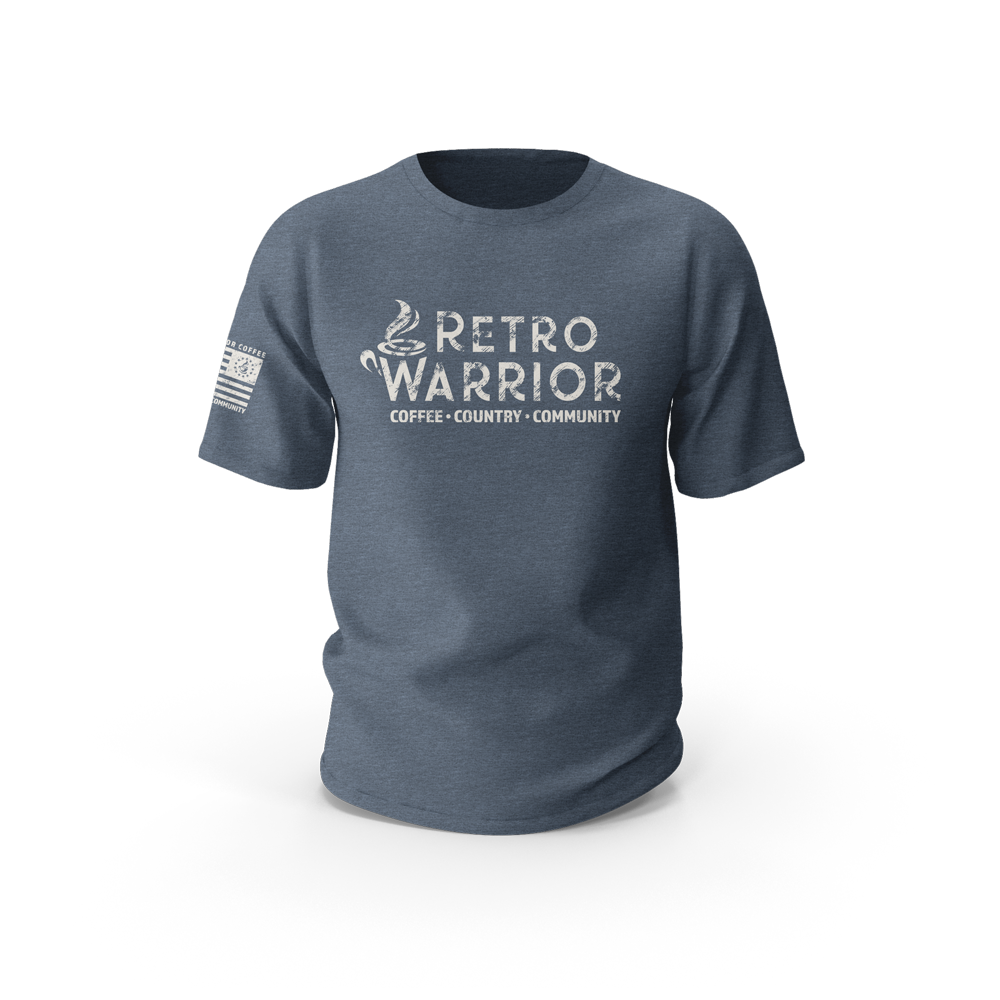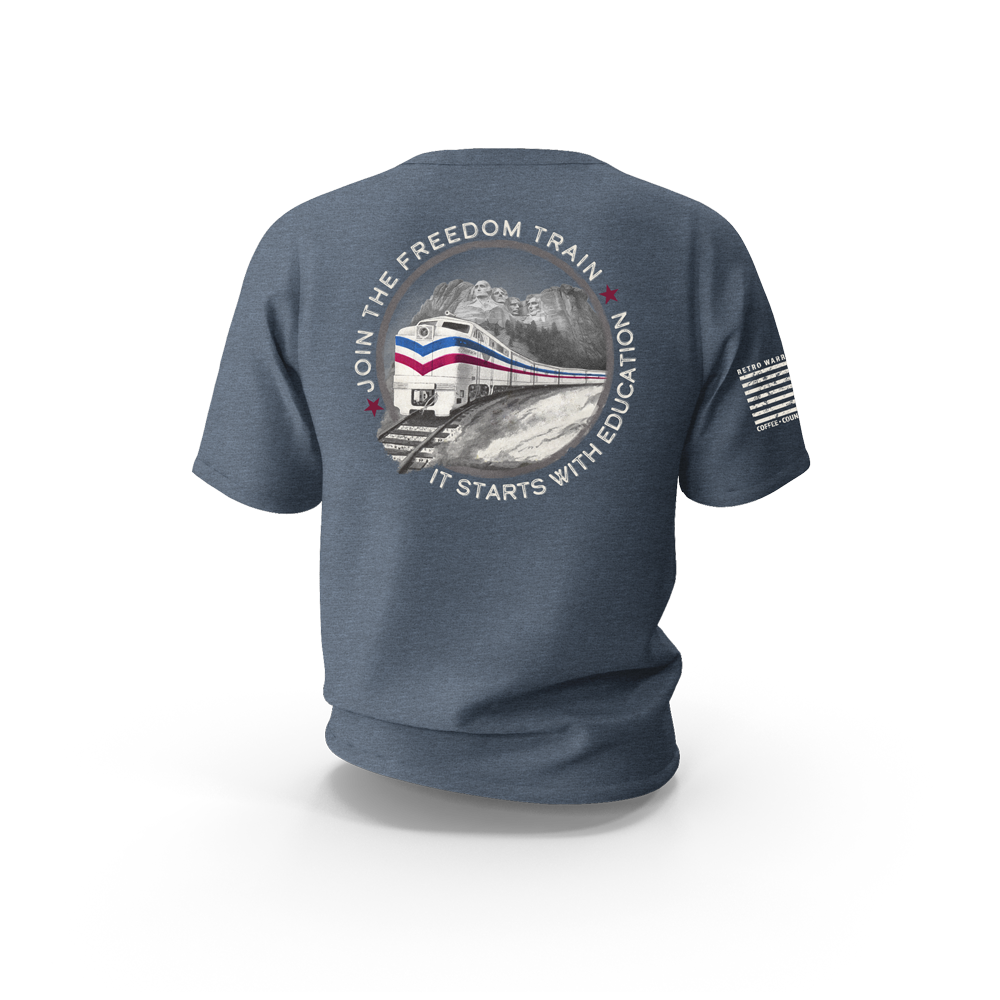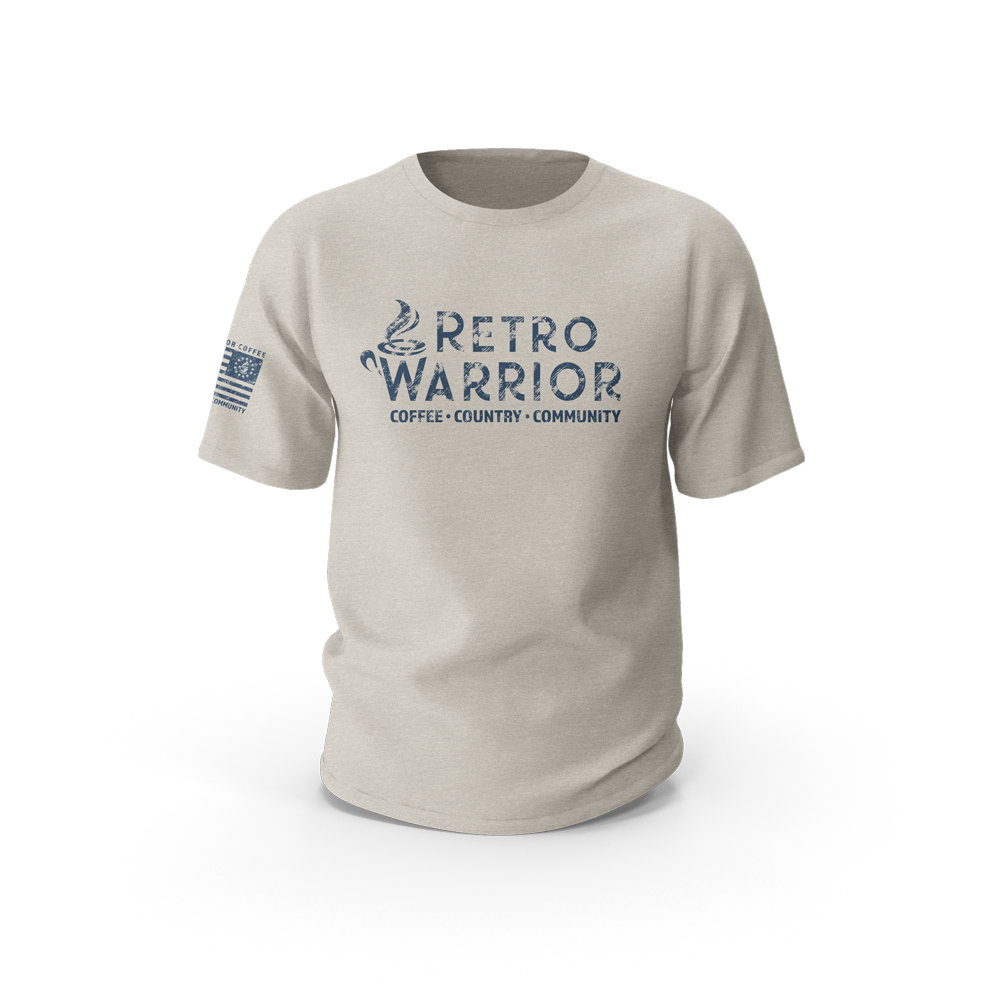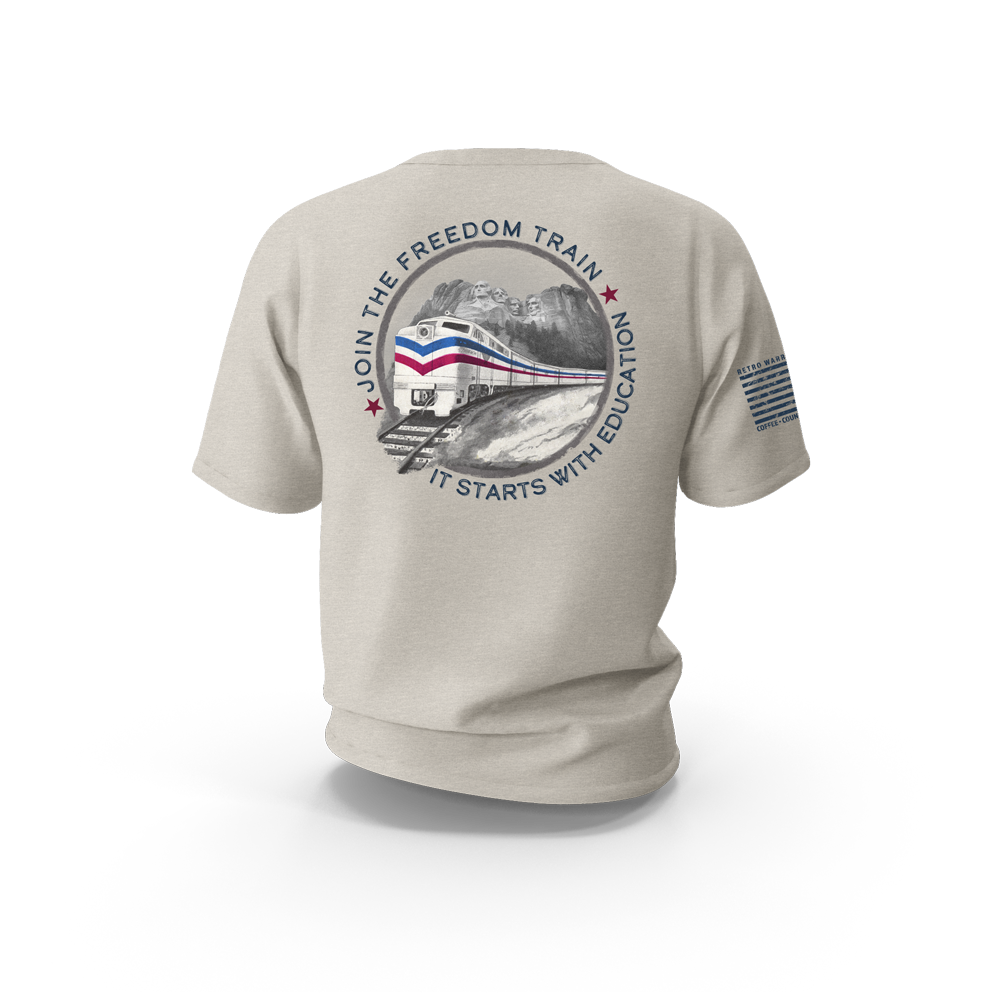 Freedom Train Tee
---
Join the Freedom Train!
The Freedom Train was a real thing! It was a symbol of freedom and education. For our Retro Warrior Freedom Train Tee, we decided to pay tribute to our history and feature Mount Rushmore behind the Freedom Train as it so boldly symbolizes our history and our freedom. We hope you enjoy this tee and that it inspires you to learn more of our American Heritage and the freedoms our nations Warriors and founding fathers stood for.
If you want to read a bit more about the history of the Freedom Train, scroll on down below our sizing chart! And join us in strengthening the core of our country and communities through this shirt focused on education. 
Now about this shirt!
This updated essential unisex T-shirt fits like a well-loved favorite, featuring a crew neck, short sleeves and designed with 52% superior Airlume combed and ring-spun cotton,
and 48% polyester

Features: 
Our Airlume combed and ring-spun cotton has 2.5x fewer impurities than other cottons.
Unisex sizing. Fit is considered "true-to-size".
Side-seamed for a flattering fit.
Made under ethical working conditions in facilities certified by W.R.A.P.
Dyed exclusively with low-water dyes in bluesign® certified, USA-based facilities in accordance with the world's strictest environmental standards.
In our humble opinion, the best premium t shirt on the market today. Fashion forward fit, and super soft material. We are proud to carry one of our favorites, this shirt is loved for its quality and brilliance in design. A flattering fit and created with ring spun cotton and polyester, it feels like your favorite tee when you wear it. It feels soft and light, with just the right amount of stretch.
This product is made-to-order in the Black Hills of South Dakota! Typically, it will be made and shipped in less than two weeks. We will send you tracking information as soon as it's in the mail.
Adult Sizing:
Measurements are in inches.

| | | |
| --- | --- | --- |
|  Shirt Size: | Body Length: | Chest Width*: |
| XS | 27" | 16.5" |
| S | 28" | 18" |
| M | 29" | 20" |
| L | 30" | 22" |
| XL | 31" | 24" |
| 2XL | 32" | 26" |
| 3XL | 33" | 28" |
| 4XL | 34" | 30" |
 *Chest Width (Laid Flat)

Youth Sizing:
Measurements are in inches.

| | | |
| --- | --- | --- |
|  Shirt Size: | Body Length: | Chest Width*: |
| S (6-8) | 20 7/8" | 15 1/4" |
| M (10-12) | 22 1/8" | 16 1/4" |
| L (14-16) | 23 3/8" | 17 1/4" |
| XL (18-20) | 24 3/8" | 18 1/4" |
*Chest Width (Laid Flat)
History
The Freedom Train in the 1940s was a patriotic initiative in the United States that aimed to promote American ideals and values during a time of global conflict and uncertainty. It was a traveling exhibition that showcased important historical documents and artifacts to instill a sense of unity and pride among Americans.
President Harry Truman was seated in the Oval Office at the time; and Americans were in need of a reminder of who we are and the principles our great nation was founded upon. During that time, political campaigns often utilized what was called a "whistle stop" campaign. Due to President Truman's love for trains and such campaigns, it was decided that in like-fashion, a train would carry many of our nation's documents of liberty across the United States and to communities in every state. 
The train, which ran from 1947 to 1949, carried a collection of significant documents such as the Declaration of Independence, the Constitution, and the Bill of Rights, as well as other historical artifacts and artworks. The purpose of the Freedom Train was to remind Americans of their nation's founding principles, including freedom, democracy, and individual rights.
This initiative was launched during the early years of the Cold War and was seen as a way to counter the spread of communism by emphasizing the values that America stood for. The Freedom Train traveled across the country, making stops in various cities and towns, where people could visit and learn about their nation's history and the principles that it was built upon.
In summary, the purpose of the Freedom Train in the 1940s was to promote American patriotism and unity during a time of global turmoil by showcasing important historical documents and artifacts that represented the nation's founding principles and values. It served as a symbol of American identity and a reminder of the freedoms that the United States and her warriors stood for.
Shipping cost is based on weight. Free shipping applies to orders of $35 or more.
Use code SHIPFREE