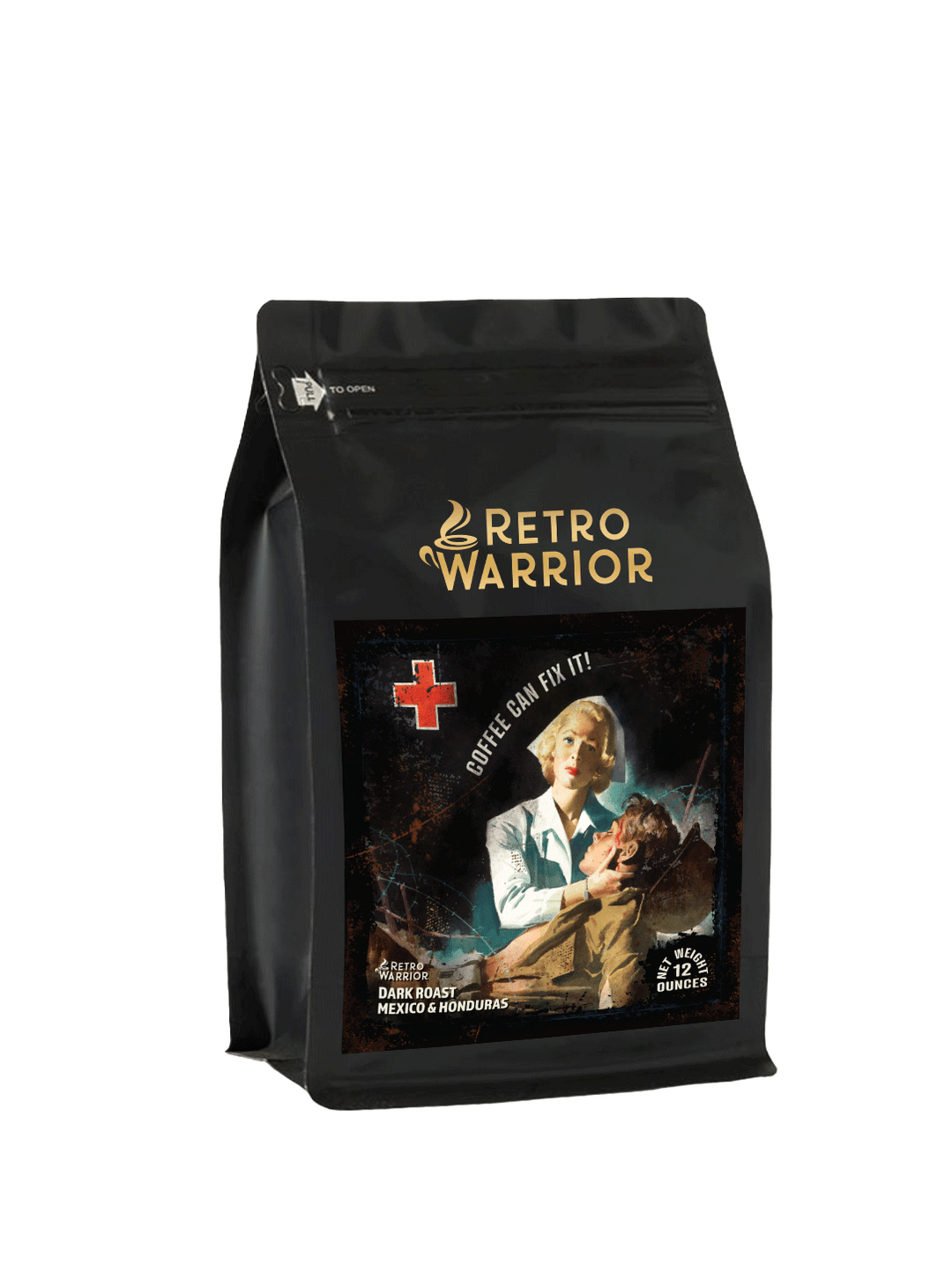 COFFEE CAN FIX IT
---
DARK ROAST - Mexico & Honduras
Region:
     Mexico: Chiapas-Rancho San Francisco
     Honduras: Montecillos Mountain Range
Tasting Notes: Smokey, Smooth, Caramel, Dark Chocolate
Embark on a flavor journey with Coffee Can Fix It, where every cup tells a story and every sip is a moment of Retro Warrior bliss; because coffee can fix everything! Roasted to order, your coffee experience is guaranteed to arrive at the peak of flavor!
Indulge in the smokey allure of dark chocolate and caramel notes, accompanied by a smoothness that defines this exceptional coffee blend. Coffee Can Fix It is crafted from the same beams used in our beloved Pour It On Espresso Roast. We take it a step further here and bring out that robust roasted flavor. If you're a fan of dark coffee, this blend is destined to be a favorite!
ORIGIN
Our Coffee Can Fix It blend is created using two different origins of beans. We use our Mexican Chiapas Rancho San Francisco and our Honduras Montecillos. Both our Mexican and Honduras beans are a Direct-Relationship offering. This means we can assure you that your purchase is impacting and bettering the lives of many people in each of the villages these coffees originated.
MEXICO
Chiapas Mountains - Rancho San Francisco
Strictly high grown by 3rd generation farmers, Delmar and Fernando Moreno Guillen, on their family estate high up in the Chiapas mountains. This region boasts a picturesque landscape with natural shade trees, creating an environment perfect for coffee cultivation. While not certified organic, the beans are naturally grown and processed without the use of chemical fertilizers. The varietals include mostly Typica and Bourbon, with a few Caturra trees still producing in select areas of the farm.

HONDURAS
Montecillos Mountain Range
Our Honduras Kingdom Growers coffee hails from the stunning slopes of the Montecillos Mountain Range, cultivated by a cooperative of small, Honduran coffee growers committed to producing high-quality, sustainable coffee. This cooperative collaborates with approximately 200 small farm holders each year, providing them with access to eco-friendly knowledge and various training resources. The farmers work collectively to enhance yields, increase income, and uphold the standards of specialty coffee. The farms, ranging from 1 to 12 acres, are situated at elevations of 4,000 to 5,200 feet. The lots are meticulously handpicked and centrally processed to ensure the highest cup quality.
ARTWORK

Coffee Can Fix It pays homage to an iconic WWII poster, adapted from the original "Fighting Men Need Nurses" campaign. During a critical shortage of nurses in WWII, campaigns like these aimed to address the issue. Learn more about the history of nursing in the US Army during that time period through The Army Nurse Corps.

BREWING
Versatile and adaptable, Coffee Can Fix It shines whether brewed as a drip coffee, espresso, cold brew, or French Press. For cold brew or French Press enthusiasts, we offer a coarse ground option and recommend Alto Cold Brew filters. 
Shipping cost is based on weight. Free shipping applies to orders of $35 or more.
Use code SHIPFREE